The Art of a Palestinian Soldier
Hind Maha Abla
Majaj Azar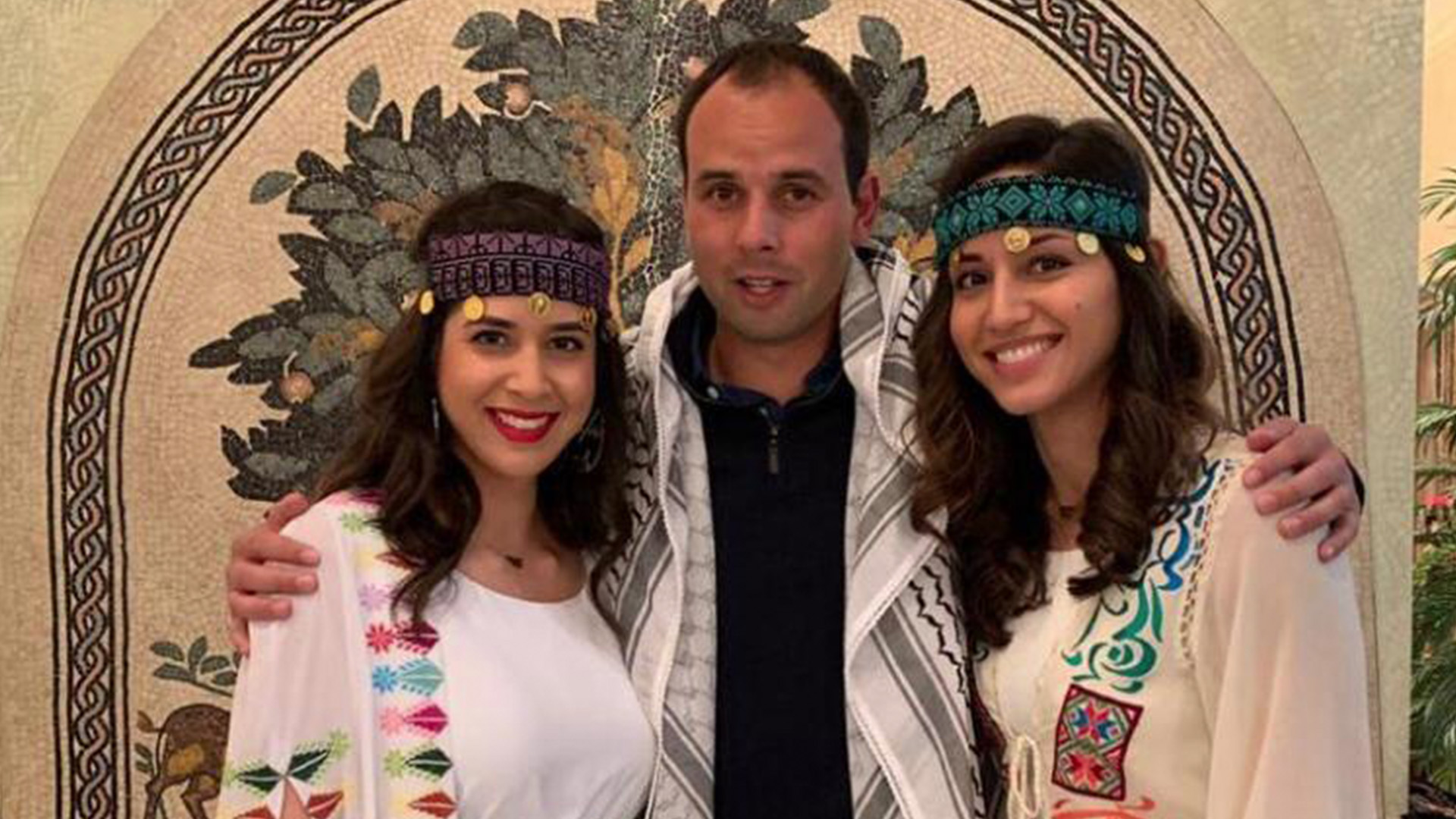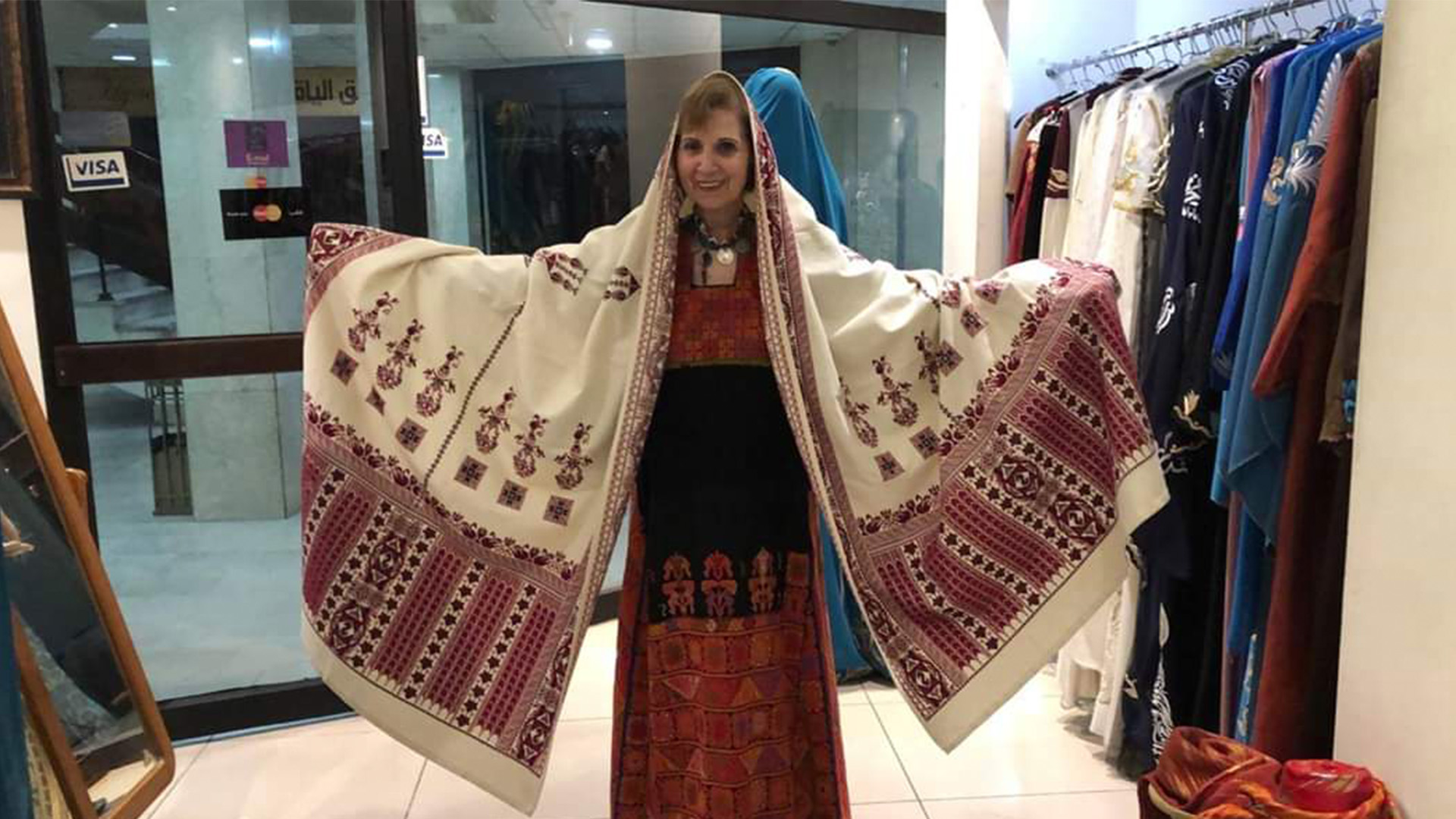 I'm a soldier. I fight with my designs. My designs revive our heritage! I'm Palestinian. I'm from Jerusalem. I'm a soldier and my weapon is my talent.

My name is Hind Maha Abla Majaj Azar, I was born on July 27, 1947. My mother passed away when I was only six months old. She was on her way back to feed me when a bomb, an Israeli bomb, had hit. My father told me about my mother's death when I was ten. He wished to spare me the pain of thinking of myself as an orphan. For so long, I had believed my grandmother to be my mother. She was the person I called, "mama."

My father refused to remarry after my mom had passed. His reason was behind the sentence he stated over and over again, "One of my children's fingers is worth more than all the women in the world." In other words, he wanted us to have his full attention. My father's advice was "Abla, do not follow money. Have money come your way. Follow your heart." There was a time when I repeated a school year. I never really liked to study. My father, well, did not tell me that I failed. He waited until the end of my summer vacation. "Abla, we must work harder to do well in school." My father didn't show me a glimpse of anger, instead, he made my failure our failure, as he taught me a lesson I learned by heart, one about unconditional love.

I went to a boarding school in Jerusalem and then to Birzeit College. I was so young when my teacher said, "Abla you are going to be a designer!". At that time in the 60s, there weren't any designers. On graduation day, I didn't have a penny and I wanted to wear a beautiful dress. I remembered my teacher's words so I went to my closet and found an old dress. I designed and stitched and the dress I wore was the most beautiful dress at graduation, based on what I heard from almost everyone. See what happens when a teacher gives a small piece of direction?

Struggle is the name of the game," is something that I have said many times over the years. I met my husband when we were both thirteen years old. We attended the same school, Nazih and I. We fell madly in love but oh what trouble it was. Everyone was so against our love. They thought I would marry a prince, a doctor, a lawyer, whomever you want but definitely not someone as young as I was then! We fought to be husband and wife. We were twenty-two years old when we got engaged on January 1, 1971, and we got married the next year.

My grandmother told me that January 1, 1948, happened to be the day my mother passed away. My father refused to change the date of our engagement. My dad wished to change the sad date into a beautiful date to be celebrated. From then on, January 1 stopped being a day of mourning.

Nazih and I were in love. We were so in love. We had three children: two boys and one girl. Our daughter was an angel who only visited our lives for one year until she went back to heaven, where she belongs. My husband passed away on that date, marking the day when I fell even more in love with him. Nazih lives inside my heart. I can't even think of loving anyone except him. I won't. My first heartbeat happened when I first saw him and my last heartbeat will be in memory of him. Nazih, my husband, then, now, and always.

You have to believe in God to survive the death of a mother, a father, a daughter, and a husband. If I weren't a believer, I would have gone insane. God doesn't leave us. Sometimes it feels like He forgets us. But not really; He doesn't leave anyone. God has been so good to me; I have my sons, I have my granddaughters, I have my talent. Without my talent, how could I have fought for our survival, for the survival of my family and the survival of our Palestinian heritage?

My sons and I have met with greed instead of the much-needed kindness. When I had to serve coffee during my husband's funeral, I did not find a piaster to pay for it. Without mention of specific people who caused us pain, let me only talk about the house, car, and money that were taken away. I had it all, then, one moment later, I was left with nothing. I urge all of you, women, to write the houses in your names. Learn from my story. Learn the difficulty of waking up without a husband or the home you decorated with love for him. My husband, bless him, was a man who worked in insurance, but he himself wasn't insured.

I once met a gypsy woman who said, "Abla, your life is going to begin at the age of sixty-three" She was right. Today, I have a shop with my designs. I am not a materialistic woman; I never was. Money isn't and will never be my focus. There were many occasions when I sold my pieces with a significant loss only because the piece my customer wore so beautifully was made for her. My customer radiated in a piece I designed, how could I not give it to her?

If I could tell the Israelis something, I would say "Enough is enough. You have caused so much damage with your reckless decisions. Isn't it about time we live in peace?" If I could talk to women, I would say "Liberate yourselves! Those shallow conversations and thoughts, aren't you tired of meaningless gossip? Have a target: a tangible, important goal." Why must women always be the underdog? I remember my professor who said, with the attempt of showing the strength of women, "A man can never give birth to a woman." What are we waiting for?

To my friends, I would say "thank you, thank you for being my friends." To my sons, I would say "Forget the past and look forward. Follow the steps of your dad and mom and you'll have a good life.